Stainless Factory Co., Ltd., the leader in the stainless steel market for more than ten years. We are located in a convenient area, 37 Maeluan Road, T. Taladnuang, A. Muang,Phuket Thailand 83000 Tel 076-234-775. Our company is formerly knowned as Pichit Kanchange. We have an excellent reputation in the field of Stainless Steel Work. We provide artwork and custom designs and produce master pieces of Stainless Steel work such as: Stainless Handrail, Stainless Fence, Stainless Gate, Stainless Door, Stainless windows. We also offer vinyl gutters, zinc,copper, curved steel, spiral stairs, remote control gate openers and guaranteed installation of all our products. Our main customers consist of are the luxury Hotel and home development market, Yacht construction and virtually all types of residential and commercial construction.
Our Factory covers over 500 Square meters, and with more than 10 employees, including 1 engineer, and 1 quality inspector, This year, we streamlined our operations in stainless steel tubes and pipes using only special grades as follows: 304 and 316L only.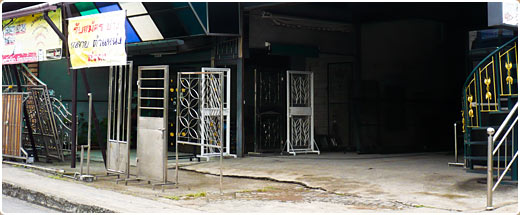 Stainless Factory Co., Ltd., established in 2000, is the leader in stainless steel work. Our state-of-the-art facilities have the most diverse range of capabilities in the industry. With our experienced, dedicated workforce and technical expertise, we are able to provide you with high-quality processed stainless steel products tailored to your specifications at a competitive price with on-schedule delivery.
Our slogan is "Perfection and the Security of Experience"